| | |
| --- | --- |
| | This article is about a product or event which has not been released yet. As such, information may be available sparingly until release. As always, please only update the article with verified information. This template can safely be removed after release. |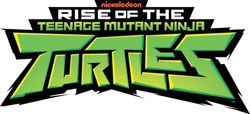 Rise of the Teenage Mutant Ninja Turtles is a 2D animated television series from Nickelodeon, set for first airing in October or November 2018.[1]
Production
Edit
Development
Edit
The new 2D series is co-executive produced by Andy Suriano (character designer for Samurai Jack) and Ant Ward (supervising producer of the Teenage Mutant Ninja Turtles (2012 TV series). The series is said to be lighter and more humor-oriented than the 2012 series.
Characters
Edit
Meat Sweats (TBA)
Warren Stone (TBA)
Hypnoptamus (Rhys Darby)
Albearto (TBA)
TBA (Maurice LaMarche)
TBA (Rob Paulsen)
Production crew
Edit
Episodes
Edit
This is the first time April is of a different ethnicity than previous incarnations as she is African-American instead of Irish-American.
Raphael is the leader of the TMNT for the first time instead of Leonardo.
The new age order for the turtles (from oldest to youngest) is Raphael, Donatello, Leonardo, Michelangelo.
Each episode will be 11 minutes long.
According to a behind the scenes video, the series will focus on the turtles "Before they really started their career as crime fighters".
This is the second series in which a Turtle utilizes tonfa as a weapon, the first being Michelangelo in Ninja Turtles: The Next Mutation.
Leonardo and Michelangelo also don't use their traditional weapons in this series. For instance, Leonardo will wield an Odachi instead of double Katana blades, and Mikey will wield a kusari-fundo instead of double nunchaku.
It was hinted in an interview that Shredder may possibly appear in this series.
This is the first time that each turtle are a different species from one another.

Raphael is a snapping turtle.
Donatello is a softshell turtle.
Leonardo is a red-eared slider turtle.
Michelangelo is a box turtle.
Unlike previous incarnations, these Turtles have powers that which they gained from their new mystic weapons (except for Donnie)

Raph has a power called Smash-jutsu
Mikey has a power called mystic whip
Leo has the power that can create portals
References
Edit
Community content is available under
CC-BY-SA
unless otherwise noted.