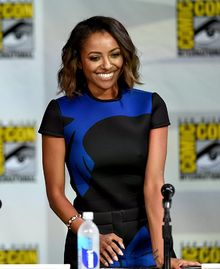 Kat Graham is a Swiss-born American actress. She is best known for playing as Bonnie Bennett from The Vampire Diaries. She will voice April O'Neil in Rise of the Teenage Mutant Ninja Turtles.
Kat Graham is the first black actress to officially play April, but her character does not represent the first official black April concept. The inspiration for the design of the original April O'Neil in Eastman and Laird's Teenage Mutant Ninja Turtles was a black woman co-creator Kevin Eastman once dated. This first version of April was initially inconsistently portrayed as caucasian or black, but early in volume 1 her portrayal became more consistently caucasian and remained so as that series went on. Virtually all other versions of April O'Neil in official comics, television and movies had been caucasian women until the Rise of the TMNT version.
External Links
Edit
Community content is available under
CC-BY-SA
unless otherwise noted.